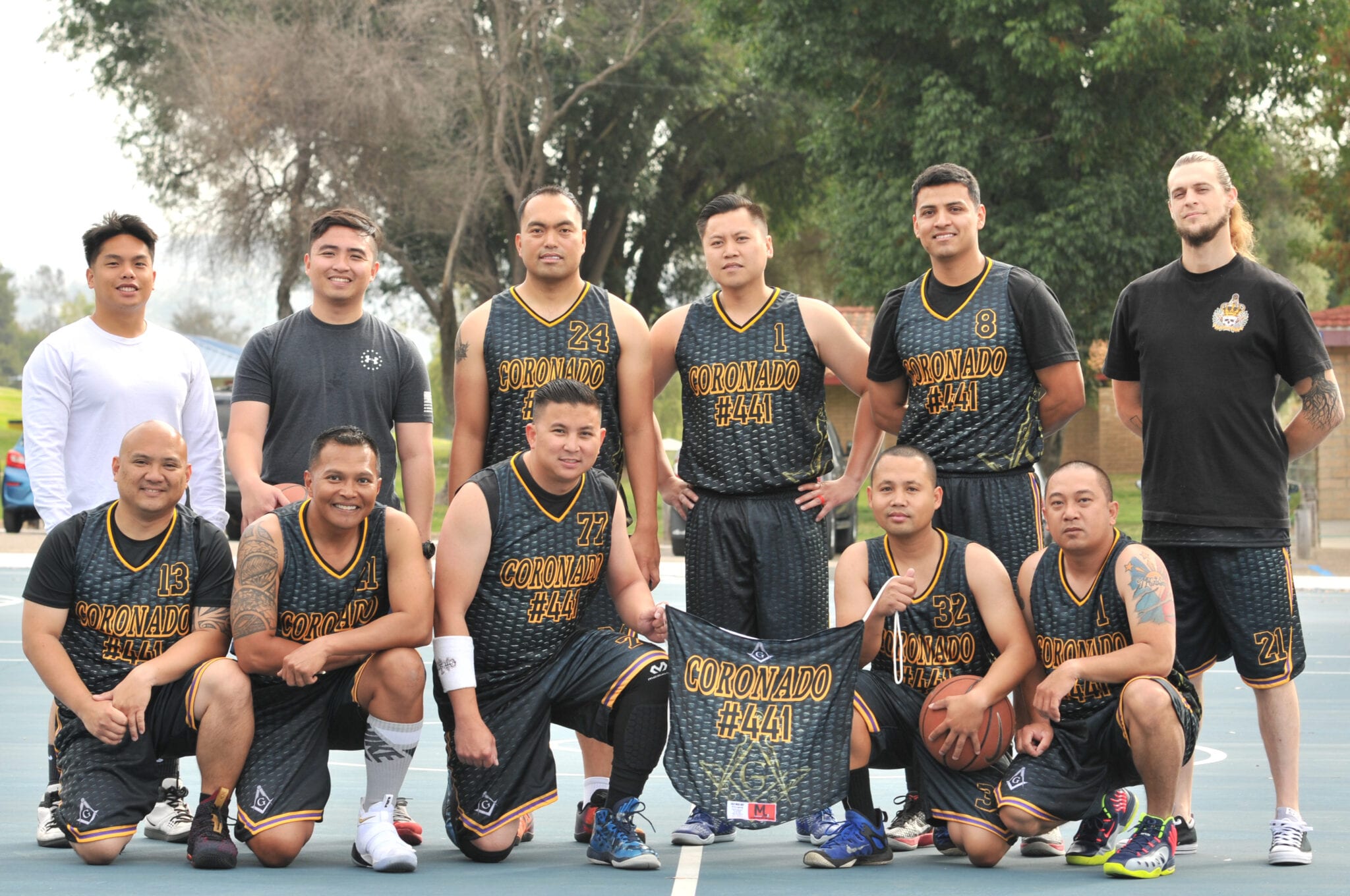 Above: The Coronado No. 441 basketball team gets ready to compete against other lodges in an MGM tournament.
The event began humbly in 2011. An aspiring candidate had asked to be raised while his father was visiting from the Philippines, and to invite members of various neighboring lodges as well. Ferdinand Abella, a past master of Unity No. 632, posted the invitation on Facebook, and on the degree night, 63 Master Masons from California and Nevada, mostly Filipino American, answered the call. Afterward, those in attendance agreed that the event had been so much fun, they wanted to make it into a tradition.
The celebration grew quickly. Three such degree conferrals were held in 2012, an additional two in 2013, and three more in 2014. Soon after, those in attendance voted to name the event Manlalakbay na Gurong Mason, a nod to the event's Filipino roots and to its many out-of-town guests. MGM then settled into a rhythm of being held once or twice yearly. At the same time, it grew in both complexity and scale. Today, the event includes a full weekend of festivities attended by as many as 500 Master Masons representing more than a dozen grand lodges. It begins on a Friday with lodge basketball and golf tournaments. There are Masonic lectures held during the weekend, plus tours and sightseeing outings for visiting Masons and their families. And of course, there's meal upon meal of Filipino delicacies like lechon, slow-roasted suckling pig, as well as a Saturday night party featuring live music and then a Sunday farewell brunch.
Although MGM has become more elaborate over the years, the highlight is still the degree conferral, which happens on Saturday afternoon. The host lodge has the honor of raising a candidate (or sometimes several) in front of the assembled brothers, which always makes a deep impression on attendees. Ed Caballero, master of General Douglas MacArthur Lodge No. 853 in Sacramento— which will host the event this year, pandemic willing—recalls one MGM where he ran into the degree candidate right after the ceremony. "I didn't know him personally," Caballero recalls, "but he saw me and hugged me and cried. He said, 'Thank you for being there to witness my raising.'"

One of Cross's responsibilities is making sure that MGM's degree conferral follows the procedure set out by the California Masonic Code. But after the lodge is officially closed, other charges are often performed, including the Oklahoma charge and one written in Tagalog. Caballero believes that this exposure to different traditions helps strengthen fraternal bonds between members from sometimes faraway places. "The common denominator that binds us together is our ritual," he says. "So sharing the ritual validates what we stand for as Masons."
That sense of camaraderie echoes the family-focused nature of many Filipino get-togethers. Two important aspects of Filipino culture, Cross explains, are bayanihan, which he defines as "a spirit of communal unity, work, and cooperation," and fiestas, or joyful celebrations. "I believe that bayanihan and that fiestas spirit is being carried out among the MGM brothers," he says.Although the majority of MGM attendees are of Filipino descent, the event is open to all Master Masons and has drawn attendees from many states and countries, including Hawaii, Japan, and Scotland. MGM has been hosted outside California only once, by Genesis Lodge No. 395 in Washington, in 2016. The 2020 event was scheduled to be held in the Philippines, but COVID-19 dashed those plans. Cross and others hope to bring MGM to the island nation one day soon.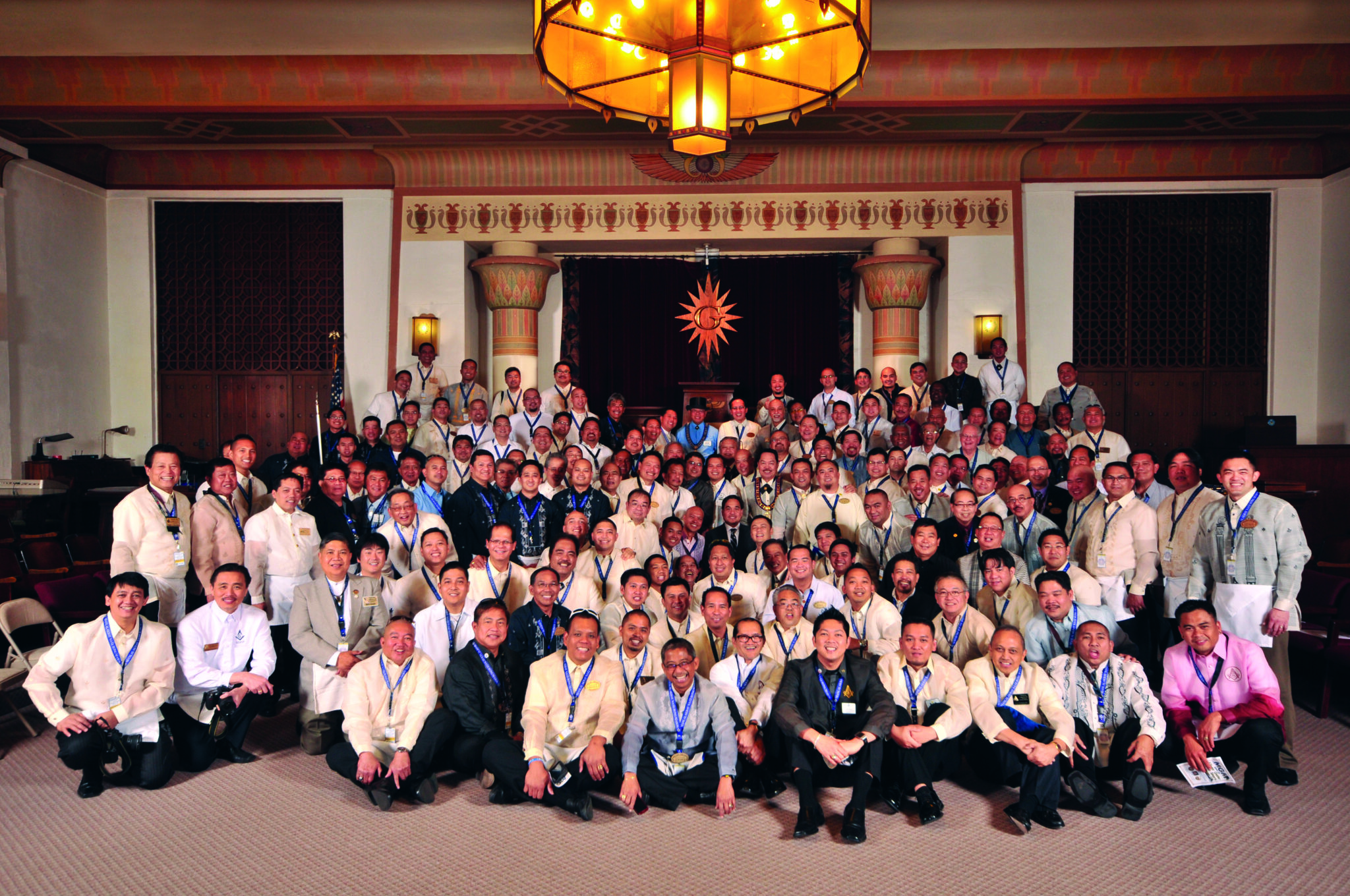 Above: Attendees of the 2014 event at Silver Gate Three Stars No. 296 in San Diego.
In the meantime, they eagerly anticipate the next event. Although the exact timing will depend on the state's reopening, Caballero and Gen. Douglas MacArthur No. 853 are proceeding full steam ahead with preparations. "This is finally our year," Caballero says, pointing out that hosting involves a great deal of work with no monetary reward—attendees pay a small fee to cover their food and a commemorative pin and T-shirt. Any leftover funds are donated to affiliated charities. Instead, he explains, "The reward is the fulfillment and the enjoyment of knowing that we were able to serve our fellow brothers."For Napalan, the next MGM will present an opportunity to relive his own nerve-straining raising—albeit from a more comfortable perch. Tradition dictates that former MGM candidates be involved in the raising of new brothers, and Napalan is looking forward to being on the other side. "Then I'll get the whole picture," he says.
The post A Traveling Brotherhood appeared first on California Freemason Magazine.